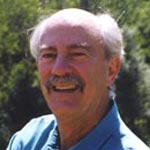 Artistic Advisor Emeritus (2006-2015)
Having for years divided his time between Berkeley, California where he taught at the celebrated university, and Europe where he played and conducted concerts and operas, Curtis finally devoted full time to performing, principally dramatic music from Monteverdi to Mozart. The first performance in California (1962) of Monteverdi's L'incoronazione di Poppea, which he conducted, also marked the first time in over three centuries that a late dramatic work of Monteverdi was performed as intended by the composer – without the modern orchestration still often mistakenly thought to be "necessary". Later, his landmark performance of Handel's Admeto in Amsterdam's Concertgebouw (recorded by EMI and now, thirty years later, reissued on CD by Virgin Classics) was hailed as the first successful attempt to revive Handel's opera orchestra. He has always been at the forefront of the movement to enlarge and revivify operatic repertory. A lavishly authentic revival of Landi's Il Sant'Alessio in Rome and Innsbruck in 1981 was an unexpected and stunning success, as were three different productions of the first Jommelli revival in modern times: La schiava liberata (Amsterdam, Naples, and Berkeley). Other remarkably successful "reconstructions" have included Cesti's Il Tito, Handel's Rodrigo, which Curtis conducted in Innsbruck, Madeira and Lisbon in 1984 for the first time since Handel himself presented it to the Medici in 1707, and Sacrati's La finta pazza, performed in a specially-constructed Baroque theatre in Campo Pisani, Venice. When he presented, for instance, Handel's Ariodante (with Pier Luigi Pizzi, La Scala 1981), Vivaldi's Giustino (Vicenza, Versailles, Houston, Buenos Aires, etc.), Monteverdi's Il ritorno di Ulisse (Amsterdam, Oslo, Siena), these works, now widely known, had never been heard in those places before.
His vast discography – nearly a hundred recordings – includes works for solo harpsichord, chamber music, cantatas, oratorios, and a dozen complete operas by Handel, the most recent being Fernando (the restored original version of Sosarme) and Floridante (also in the reconstructed original version). In an edition prepared by Alessandro Ciccolini, he also directed the world premiere recording (Deutsche Grammophone / Archiv) of the newly-rediscovered masterpiece of Vivaldi, Montezuma and conducted a staged production of that opera in Lisbon and Italy in 2007/2008.
In 2006 he did the first modern reprise of Vivaldi's Ercole su'l Termodonte (reconstructed by Alessandro Ciccolini), designed and staged by John Pascoe for the Spoleto Festival, which was issued on DVD (Dynamic) in April 2007. For the 50th anniversary of this same festival in 2007 he was invited to conduct a new production by Pascoe of Handel's Alcina, and in September took the same opera, with Joyce DiDonato in the title role, to Milan and Paris, after recording it for Deutsche Grammophone /Archiv.