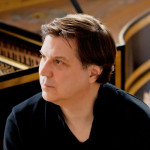 Artistic Advisor
Skip Sempé, virtuoso harpsichordist, director and founder of Capriccio Stravagante, is at the forefront of today's musical personalities in Renaissance and Baroque music. Sempé grew up in New Orleans, studied music, musicology, organology and the history of art in the United States at the Oberlin Conservatory and completed his training in Europe with Gustav Leonhardt in Amsterdam. His distinctive harpsichord playing, musicianship and interpretive flair were immediately recognized as the invention of an exotic, multi-dimensional and uncompromising musical personality. Sempé remained in Europe to embark on his own pioneering reconsideration of well and lesser-known repertoire ranging from 1500-1750.
Sempé always believed that allowing musicians to express themselves musically was the key to unlimited resources – and that catering to the 'authority' of the performance models of the 1970s and '80s would represent a mistake of considerable consequences.
From the beginning, Sempé's expertise and passion would permit a multitude of activities which were yet to flourish: harpsichordist, chamber musician, conductor, guest musical director, artistic director of the Paradizo label and the Paris 'Terpsichore' festival, founder of the Capriccio Stravagante Prize, teacher, coach, lecturer, musicologist, programme planner, author, 'test pilot' for some the finest harpsichord makers of our time and Artist in Residence at the Utrecht Early Music Festival and BOZAR in Brussels. More recently, Sempé inherited his favourite harpsichord from Gustav Leonhardt's collection and had the honour of occupying Leonhardt's chair on the jury of the 2012 Brugge Harpsichord Competition, where he succeeded in awarding a tie for first prize for the first time in the history of the competition.
As a solo performer, Sempé has focused on developing a superb sense of idiomatic harpsichord touch and a finely tuned ear for achieving variation in the instrument's sonority. Performing and recording on the world's most prestigious harpsichords, made by Ruckers, Taskin, Goujon, Skowroneck, Kennedy, Humeau and Sidey, Skip Sempé is particularly known for his interpretations of the French classical harpsichord literature including Chambonnières, d'Anglebert, Forqueray, Louis and François Couperin and Rameau, for his adventurous and ground-breaking Bach and Scarlatti, and for the earlier virginalist repertoire of Byrd and his contemporaries. Solo performances from Seattle to Tokyo – including recitals at the Festivals of La Roque d'Antheron and Urbino, dedication concerts for the Cleveland Museum of Art and the Chateau de Versailles – as well as harpsichord master classes for the Piccola Accademia di Montisi, the Hochscule fur Kunste Bremen at the Mozarteum in Salzburg, the Leipzig Bach Festival, Juilliard School, Orpheus Institute in Gent, Festival d'Ambronay, the Berkeley Early Music Festival, Stanford University, the Oberlin Conservatory of Music, Mc Gill University and the University of Montreal have attracted a particularly enthusiastic following.
Skip Sempé combines the rare synthesis of uncompromising musical moderator and admired virtuoso performer. Season after season of prestigious concert appearances and recordings document Skip Sempé's dedication to strategic planning of repertoire, artist and programming, having featured Julien Martin, Josh Cheatham, Olivier Fortin, Sophie Gent, Doron Sherwin, the Collegium Vocale Gent, Pygmalion with Raphael Pichon, Chanticleer, Les Voix Humaines, the Studio de Musique Ancienne de Montreal, The Helsinki Baroque Orchestra, B'Rock, The Holland Baroque Society and the Akademie fur Alte Musik Berlin.
Following fifteen years of prizes and awards with three prestigious labels, Skip Sempé founded the Paradizo label in 2006. The label releases all of Capriccio Stravagante and Skip Sempe's new recordings, assuring Capriccio Stravagante's own tradition of presenting important new instrumental and vocal soloists.
In celebration of Capriccio Stravagante's 25th anniversary, 'Memorandum XXI', a volume of Skip Sempe's collected writings on music and performance, was published by Paradizo.
Skip Sempé is the artistic director of the annual Terpsichore Festival in Paris.