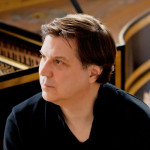 Artistic Advisor
Alchemist – Over the last decades Skip Sempé has flourished as a harpsichordist, chamber musician, conductor, artistic director, teacher, coach, lecturer, scholar, and writer. He is the founder of the ensembles Capriccio Stravagante, the Capriccio Stravagante Renaissance Orchestra and Capriccio Stravagante Les 24 Violons, and has served as the artistic director of the Paradizo label, the Piccola Accademia di Montisi, the Paris-based Terpsichore festival, and been an artist in residence at BOZAR in Brussels and at the Utrecht Early Music Festival.
Cutting through the noise – Considered to be one of the last pioneers of the early music movement, Sempé has recovered and preserved a musical aesthetic and artistic mission that is slipping away. With over forty prizewinning recordings as a soloist and with Capriccio Stravagante, concerts worldwide, and a collection of thought-provoking essays, Memorandum XXI, he has revolutionized early music performance and challenged a dated, standardized 'Baroque sound'.
Pursuit of musical adventures – Once a student of Gustav Leonhardt, Sempé is an original seeker with a rich imagination, a musical philosopher who thinks about historical performance practice and a persuasive essayist who expresses his individual ideas on artistic history with verve. Above all, he is a musician who beguiles and astounds with his magical-sensual store of previously unheard sounds. His superb sense of harpsichord touch, finely tuned ear for achieving variation in the instrument's sonority, and spontaneous musical personality supported by virtuosic keyboard skills has made him a coveted 'test pilot' for some of the finest harpsichord makers of our time.
Recordings & Musicians – In 2006, he founded the Paradizo label, which has released many prizewinning recordings as well as Memorandum XXI, a collection of Skip Sempé's essays on music and performance with five CDs. Sempé's previous twenty recordings are all still available on the Deutsche Harmonia Mundi, Astrée, Alpha, Teldec and Mirare labels. He is regularly invited as a guest director, and has performed with Julien Martin, Josh Cheatham, Olivier Fortin, Pierre Hantaï, Sophie Gent, Doron Sherwin, Jordi Savall and the ensembles Collegium Vocale Gent, Pygmalion, Vox Luminis, Capella Cracoviensis, Chanticleer, Les Voix Humaines, the Studio de Musique Ancienne de Montréal, the Helsinki Baroque Orchestra and the Concert des Nations.
Impact – Sempé's solo harpsichord and ensemble performances have inspired generations of young musicians. He has served on the international harpsichord juries of Brugge, Leipzig and Rouen, and also teaches extensively, including the annual masterclasses at the Villa Medici / Académie de France à Rome. Skip Sempé is a Chevalier in the French Ordre des Arts et des Lettres.
www.skipsempe.com