Master Classes for harpsichord and chamber music at the
Fondation Simone et Cino Del Duca / Institut de France, Paris, 2017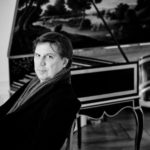 Master Class: Skip Sempé
23 – 24 March 2017
The Piccola Accademia di Montisi will extend their activities to France, with a special 2 day Master Class in Paris, in co-production with Capriccio Stravagante
To qualify as participants, students must be presently enrolled in university level music studies or be recent graduates.
The Master Classes are free of tuition fees to eligible participants. A non-refundable 50 € registration fee is required.
---
Master Class information
Repertoire: Solo French music and varied chamber music from 1600 – 1700.
The Master Classes will be limited to 6 harpsichordists and 2 chamber ensembles (maximum 5 members).
The daily schedule for the Master Classes is 10.00 – 12.30 and from 14:00 – 17.30.
The application deadline for participants is 15 March 2017.
The Master Classes are open to auditors free of charge. Auditors must register before 20 March, and will be accepted in order of request.
The Master Classes will be given on a double manual harpsichord after 18th century French models by Bruce Kennedy.
The location is The Fondation Simone et Cino Del Duca, 10 rue Alfred de Vigny, 75008 Paris, Métro Courcelles or Monceau.
---
Accommodation and travel
Accommodation and travel are the responsibility of the participants and auditors.
---
Application
Please send this Application Form to the following email addresses:
For all questions concerning the Master Classes, please contact the Piccola Accademia di Montisi administration at: annasantapukki@me.com